Experience Live Art Entertainment Events by Air Graffiti Dallas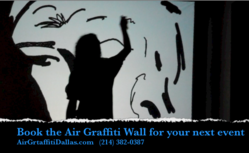 Dallas, TX (PRWEB) October 09, 2012
Air Graffiti Dallas Is announcing a new service, called "Live Art Entertainment". Air Graffiti Dallas brings local Dallas artist into the mix in a cool and trendy way. Experience Live Art Entertainment and up your cool factor at your next event! The all-new live art entertainment offering from Air Graffiti Dallas is a new form of event entertainment that was not possible before now.
Imagine entering an event and seeing an artist creating live art on an 8′ X 10′ canvas with spray paint, said Dennis Walthers. Rather than a real spray can, Air Graffiti Dallas uses a digital spray paint and the canvas is a high definition rear projection screen. This is unique, and puts a creative twist on event entertainment. Its one of many offerings by Air Graffiti Dallas. Its what makes Air Graffiti different, said Walthers.
This new event technology was introduced by Air Graffiti Dallas in September 2012 and is now gaining the attention of the art community, the press and large organizations. The experience of using Air Graffiti Dallas is a memorable and exciting experience taking creativity and entertainment to a whole new level at any special event.
The Wall and the Artists
Pairing artists skills with the Air Graffiti virtual wall introduces new possibilities of creating art relevant to an event to help get a message across or using it conjunction with digital photography. An artist can complete a wide variety of creative images with larger than life photo images of guests at the event using the Air Graffiti wall.
-more-
I have witnessed first hand the power of bringing live art into an event, Walthers said. It quickly becomes the topic of conversation as crowds gather and become mesmerized by this larger than life art being created in front of them.
In conjunction with the art, we have created a whole new ambience to the artistic experience by adding music to correspond with the event or as selected by the client. This provides a more upbeat experience that will make the Air Graffiti Dallas a party favorite! High powered speakers and a premium list of unlimited songplay, this is sure to be the experience everyone will be talking about. With these elements in place, it has just the right amount of cool and trendy that works well in a corporate cocktail setting, holiday party, PR event, or product launch where people want to be relaxed and at ease.
Air Graffiti Dallas is working with multiple local artists that all have their own style, favorite genres of art, and all are at different skill levels. Depending on the complexity of the art, it can take as little as 15 minutes to more than an hour to complete. My personal favorites are the artist that work quickly and have a bit of showmanship. Theyre fun to watch and can create multiple canvases during an event, said Walthers. The art can be printed with a company logo if desired and signed by the artist for the guests during an event.
###
For additional information about the Event Art Entertainment brought by Air Graffiti Dallas, visit the Air Graffiti Dallas website and use the Contact Us tab or via email at 214-293-5044