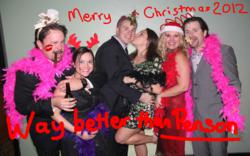 Dallas, Texas (PRWEB) December 18, 2012
The photo booth experience has been a huge hit at recent events. The party guests rave about the cool experience provided by the Air Graffiti virtual Photo Booth experience. We can barely keep up with demand, said Dennis Walthers, Owner of Air Graffiti Dallas.
Air Graffiti gets its name by combining multiple technologies to create a magical experience that features digital spray paint that can be adjusted for size, blur and transparency much the same way as using real spray paint. In fact it even has a drip feature, added Dennis
Per the website (http://www.AirGraffitiDallas.com) the size of the Air Graffiti screen is 8 feet tall by 10 feet wide. Using the screen as a backdrop to photos makes it perfect for large group shots or shots that just cant be done in a typical photo booth.
Add in a mix of real photo props and digital photo props with stencils and stamps that can be added to any image for a customized image.
This is the coolest event photography technology to hit the market. It definitely ups the WOW factor for events. When event guest first see the virtual photo wall in action we get a constant stream of compliments on how cool the technology and experience is, added Dennis.
We can combine the Air Graffiti Wall with a local artist to create entertainment art or to interact with photos of guest in a new an creative way that creates a fresh approach to event photography, said Dennis.
If desired we can also provide a backdrop of music of in your choice of genre or artist featuring powered speakers, added Dennis
This latest Photo Booth offering is one of many features by Air Graffiti Dallas featured on the companies website. For additional information about the ultimate Photo Booth Experience by Air Graffiti Dallas, contact Dennis Walthers at (214) 293-5044. You can visit the Air Graffiti Dallas website at http://www.AirGraffitiDallas.com and use the Contact Us tab.
###
---
---
---
---
---
---